Libraries & Research in (fictional) Dunwich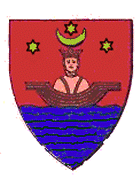 It is likely the players will want to grub around and look stuff up. This means they need to consider access ot the various libraries, newspapers and museums of Dunwich. Unfortunately lots of documentation is distributed in different archives and collections, but dedicated effort can pay off...
Libraries
The Dunwich Town Library is a branch of East Suffolk Libraries based in Ipswich. A two story modern (1977) brick building it stands on Wyke Street opposite the Bus Station, which needs to be added to the map (sort of off High Street between the Markets). It is divided in to main lending, children's, a couple of shelves of music, and upstairs a local studies and reference library with a small cafe (pricy!) and art gallery displaying a range of local artists water colours for sale. Several students work here. There is a turnstile security system, and pretty good selection of books. There are microfiche readers and a limited selection of newspapers. There are two photocopiers here, and a computer system which is networked to other East Suffolk libraries for ILL.
The Record Office is on Keble Street, in a splendid Georgian town house set back from the road. It is mainly filled with genealogists, has 8 microfiche machines, and a couple of downstairs meeting rooms. Extensive newspaper archives exist here as well as some ancient manuscripts kept in a s secure area and orderable for viewing under supervision. There is also a fairly good local history library, and helpful staff. You have to sign in and out and membership costs £5 a year and requires decent ID. Highlights include the Assize Records and extensive Wills and Probate Records.
Cathedral Close has the Diocesan Archive, with books dating back to the 13th century, many in Latin. It is a closed private collection, with permission granted to access for specific research requests by the Dean and Chapter's Office, but requiring two academic or clerical references in support and a written application. Most Parish Records are however available on microfiche from the Local Record Office.
St Bartholomew's School has a small collection of documents pertaining to the history of Dunwich, and the local area, plus some rare books, but is a private collection - apply to the School Bursar, citing interest and reason and providing appropriate references.
The Local History Society has rooms in Carmichael House adjacent to the Maritime Life Museum, including much to do with the history of the fishing fleet, Port Records from the 17th to 19th century and Customs House records for a similar period, plus various documents on old Dunwich and masses of Genealogical Research.
The HE College has an extensive library on campus, open to students but with a few restricted special collections.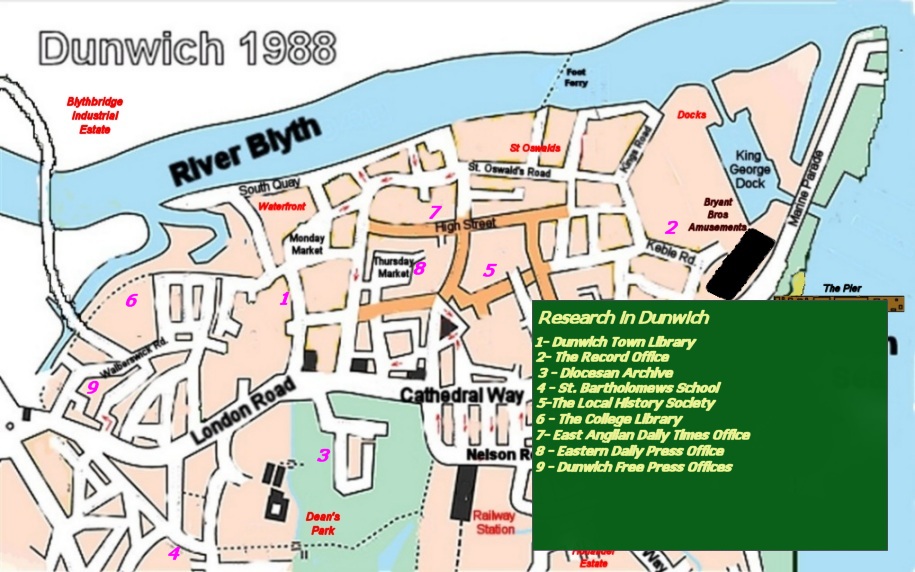 Newspapers
East Anglia in 1988 has two major regional daily newspapers...

The East Anglian Daily Times, always called the EADT by locals which maintains a small Dunwich Office on the High Street above Clarks Shoe Shop, and the Eastern Daily Press referred to as the EDP which maintains a small office on the Thursday Market. The EDP has more of an East Suffolk and Norfolk emphasis to my mind, the EADT more inclined to reports from Essex and the west of the County, though it prints an East Suffolk edition for Dunwich, Ipswich and Lowestoft readers. (NB: in 2005 the EDP concentrates on Norfolk, the EADT on Suffolk and Essex).

The Eastern Daily Press dates back to October 10th, 1870, and the EADT to 1890. Both are fully archived at the Record Office in Keble Street.

A third regional newspaper, The Suffolk Free Press existed from 1850 to 1951, before closing. It's local version, the Dunwich Free Press still comes out each Thursday, and is the primary newspaper read for local news by Dunwich folk who choose to buy a paper. A thick weekly almost anything happenning in the Dunwich region is worthy of some attention, and the offten sermonising editorials and deeply conservative columnists are often amusing to an outsider. Local headlines incluse such past classics as "Garden bonfire gets out of control", "Frost killed Prize Marrow" and "Woman has Purse Stolen" (it subsequently turned up in her handbag). The large offices and Press are based on Walberswick Road, and the News Room welcome stories.

The DFP offices also publishes the Dunwich Gazette, a weekly freebie delivered on Mondays throughout the town and 90% advertisng. The Gazette is rivalled by the Dunwich Eye published on Wednesdays, and distributed wherever paperboys do not throw it in the Estuary, by Pickman Group Papers of Ipswich.

The Historian may be interested in these newspapers available at Dunwich Record Office (and largely based on real newspapers)-
The Ipswich & Dunwich Journal, published 1740 to 1855.
Bury & Norwich Post 1782 to 1952
Suffolk Herald 1828 to 1835
Suffolk & Essex Free Press 1855 to 1951 These papers really existed (albeit modified slightly for the game), and thanks ot the wonderful work of Foxearth Local History Society you can view extracts here which gives you a real feel for Suffolk history.
The following are (fictitious, based on Ipswich) past Dunwich papers...
The Dunwich Journal, or The Weekly Mercury (1720-1733)
The Dunwich Gazette (1733-1737)